Just one word is enough to cause an uproar in top-class gastronomy. From "Not in my kitchen!" to "How can we do this any other way?", it seems that every kitchen professional has their own highly charged opinion about the gastronomic dynamite known as convenience. But the intense gastrosophical debate about its blessings and curses and the tedious debate about what exactly convenience is may be led by others this time. After all, pragmatically speaking, one thing has become clear since Corona: In the long term, it is precisely the highly criticized and contested convenience segment that could help the (top) gastronomy sector out of a viral calamity. Cloud kitchens or ghost kitchens – in other words, kitchens without a dining room where top-quality dishes ready for transport are conjured up for the end customer at home – have proven to be virtually immune to the devastating corona restrictions that have been put in place for traditional gastronomy businesses during the crisis. In addition, one thing becomes clear: After the initial shock, anyone who did not want to put the fate of their restaurant in the hands of the minuscule state aid they received switched on the stove once more and delivered carefully packaged (ready-made) meals to their customers, which only have to be "finished" at home.
Convenience is therefore the order of the day, which makes it all the more important to ask just how traditional convenience food is made. What are the various work tasks? What can the Corona crisis-ridden gastronomy industry learn from convenience companies? Last but not least, what do the latest production conditions mean for the future of the culinary profession?
The following information will help make the scale of what we're talking about clear. According to the statistics database Statista, the turnover in the convenience food segment estimated for 2020 is just under six million euros. Thus, the market volume in quantitative terms is expected to increase to no less than 2,857 million pounds in 2023, while a sales growth of 2.7 percent is predicted for the coming year. Although convenience is huge in the food business, it is not talked about – especially in public. This is particularly true when it comes to production conditions and techniques.
But why?
"We produce between 16 and 30 tons a day, divided into 100 different batches." It's not surprising that statements like this one sound disturbing at first. But the calm objectivity Andreas Bach of Trend Meal brings to the topic makes it clear that this is really all about tried-and-tested and sophisticated work processes that have become indispensable in the food industry – from retail to catering. Located in Wernberg-Köblitz in the Upper Palatinate, Trend Meals produces a total of around 800 products, not only for top gastronomy, but also for hospitals and, in jars, for supermarkets.
"Strictly speaking, convenience production begins with the delivery of goods," explains Bach. "At this stage, a rigorous quality management system is immediately implemented, where all sorts of things are checked, such as temperature, color, pressure, size – there are countless tests performed for every product." The goods are then "collected," as Bach calls it, i.e. provided with an internal ticket so that they can be digitally scanned through the individual stages of production. Thus, they can trace how long the product has been stored and when it enters the actual preparation phase. In other words, the goods are always labelled before they are taken to the repacking sluice, where the transportation packaging is removed. "It's all about ensuring hygienic requirements within production," Bach explains. "The goods are then placed in internal boxes with plastic film. They only make their appearance in the kitchen after this stage has been completed." The first stage therefore ensures two things: impeccable hygiene and maximum transparency. Without these two things, the convenience food industry would never have been able to successfully establish itself to the level it has achieved today.
Goulash on the assembly line
"Our high-end convenience food for gastronomy is increasingly vegetables," says Bach. "This is for the simple reason that we can cook it more gently and with a firmer bite than is possible in other kitchens, also in terms of time. For example, broccoli is only quickly blanched, packed while still warm and then immediately cooled down. Since we do not add preservatives, we can only produce comparatively small quantities. However, the advantage for every chef is clear. In the kitchen, all they need to do is unpack the broccoli and finish up the job. Just put it in the pan with some butter and perhaps a handful of slivered almonds, give it a toss and you're good to go. "The chef themselves," Bach sums things up, "can therefore concentrate on adding their own individual touch, we simply took over their mise en place." After all, "What differences does it make where the broccoli was cooked?"
It is exactly this pragmatic approach combined with the highest of standards that is also used by one of Trend Meals' "culinary all-rounders". "Goulash works in every market segment," says Bach.
"Whether for event catering late at night, as staff meals in top restaurants and hotels or in the hospital sector – in Germany there is actually no event where goulash wouldn't fit." This Hungarian national dish also impressively illustrates how the individual – on the one hand fragmentary, but on the other hand closely connected – work steps function in the sophisticated convenience food industry. "We have mechanical help to cut the goulash meat in the first step," explains Bach. "This is a cuber no bigger than two suitcases, which cuts 880 pounds of goulash meat into cubes every hour." It's worth mentioning that Trend Meal produces 80 to 90 tons of goulash per year, so this machine – by the way, an actual real person has to place the goulash meat inside it – has plenty to do to say the least. The cubed meat is then placed in a tumbler – a kind of meat drum – where it is seasoned in quantities of over 1700 pounds. The focus here is not only on efficiency, but above all on quality. "Imagine what that would be like if it were seasoned by hand," explains Bach. "Some goulash soups would be spicier or saltier than others, depending on the package." This step also illustrates a decisive point in convenience food production. The new technological possibilities guarantee uniformity as well as a reliable calculation, which is an economic advantage in contrast to only preparing food manually. Now the machine madness really takes off. "After seasoning, the meat goes into the roasting line," explains Bach. The roasting what? That's right, a roasting line. Imagine it like a nearly three-foot long conveyor belt where small pieces of meat are sizzling right in front of you. "We have two roasting lines," Bach clarifies. "The one with oil is made of iron. This is where we create the intense roasted flavor. The other one is made of teflon. Here, we continue to heat the roasted meat pieces. While this is taking place, we are also busy preparing the goulash sauce in a 1.5 ton pot. By the way, in the spacious Trend Meal kitchen, which has around 20 employees, there is  a single department – offshore, you might say – where the ingredients for the other kitchen items are weighed all day long.
But let's get back to goulash. In the final step, the individual goulash portions are placed in a bag, where the meat continues to cook for another hour or two until it is really nice and tender. What is true for goulash is just as true for other stews and roasted dishes. Preparing them may not be an act of magic, but it takes an enormous amount of time. In our part of the world, even if some people feel guilty about eating meat, they are still one of the most popular dishes for both Germans and Austrians. This makes a high-quality convenience product all the more valuable, especially for the gastronomy sector. One convenience food company, the Aumaerk Meat Factory, has masterfully recognized that this is not only a source of culinary capital.
Carnal state secret
"To be honest," says Oliver Scheiblauer, "we're not making a convenience product, we're making mise en place for pros." What sounds like capricious banter is a completely objective statement for the top chef behind the meat manufactory, which was founded in 2014. You could even go so far as to claim that Scheiblauer embodies like no other in our part of the world the new generation of high-end convenience food. The recipes, including production processes such as pork belly, which has become legendary in the gastronomy scene, remain a well-kept Aumaerk secret. However, they do admit to one thing: "It takes at least 192 hours from the delivery of the food to the delivery of the finished product," says Scheiblauer. "Within this time span, 19 steps take place, such as quality assurance, pre-maturing, marinating, preparation, post-maturing, etc." It truly is amazing. The crude quick-and-fast image of convenience food does not seem to have any place here, especially considering that between six and twelve people work in the Aumaerk kitchen under Scheiblauer's supervision. "With us, of course, you can't just get down to work", explains the top chef. "Everything is structured and adheres to the highest hygiene standards." But just like Andreas Bach, Scheiblauer also explains this in the usual convenience food manner. "Everything starts with hygiene, everything ends with hygiene. We also have such a strong monitoring system that we have three checks even during production. This means that every piece has to be the greatest in the world. If only 44 pounds out of a ton is good enough, the rest is thrown out."
Above all, Scheiblauer sees the added value of convenience food in the relatively new phenomenon of specializing in individual manufacturing processes. "There are manufacturers who make products which they simply make very, very well. And if, as a chef or restaurateur, you can buy something that is better than your own product in all respects – especially in times of shortage of skilled labor – then it would be foolish not to buy it. However, for many chefs, the problem here is that their ego gets in the way." Indeed, it is thanks to companies like Aumaerk that even the most narrow-minded cook starts losing their overblown existential fear when it comes to convenience products. "So, here's the thing: If you make your products cleverly, you always give the final chef the chance to add their own individual touch. For example, if I make a goulash with too much marjoram, I am reducing the options for the final chef. But if I provide them with goulash of the best quality and they can add garlic or caraway seeds themselves if they want to, then I have created a convenience dish that can stand on its own and is superbly balanced." But what connection does Scheiblauer personally to his profession as a master craftsman have via the mise en place for professionals? "The great thing is that I can put my stamp on things. Besides, as a chef this is the most creative period I have ever had", Scheiblauer enthuses about his refining work. "This  is simply because I can constantly develop new dishes with my products and my customers, which include renowned star chefs, are always telling me how awesome this is."
So what is the current and future inventory of convenience production that can be derived from what Trend Meals and Aumaerk have added? It goes without saying that the interaction between man and machine is more intensive at Trend Meals than at Aumaerk, where in principle the (top) gastronomic mise en place of a conventional kitchen crew is setting new standards. However, Andreas Bach makes it clear that the more specific the convenience product range, the more likely it is that production will be equipped with fully automated processes in the future. Whether this is possible in the high-end sector is yet to be seen. However, the technological achievements of the past few decades make it seem likely. At the same time, however, the success of companies like Aumaerk suggests that the convenience sector – similar to gastronomic businesses – will take a more refined conceptual approach aimed at creating an image which could be described as
"convenience coolness". This means that an actual real chef will not be replaced by machines, even outside the final kitchens in top restaurants. It looks as if the highly controversial topic of convenience food has been cooked up a little hotter than when it was eaten. In the end, things aren't looking so bad after all.
Free Download: Ghost Kitchen Playbook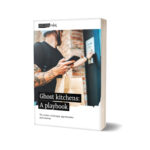 Download your Ghost Kitchen Playbook for free now.