Ever since the rapid advent of digitalization, thinking and acting within networks has played a dominant role in our professional and personal lives. As a result, topics like shareness, collaboration, and co-creation have brought about a new era of "we" culture, which has led to physical locations being used in different ways. This development has breathed new life into shared dining areas, as people have come to realize that, in the creative economy age, communication and interaction are crucial aspects of everyday working life.
Food and nutrition expert Hanni Rützler has observed that company staff canteens are shifting from chow halls to temples of enjoyment – and an increasing number of them are open to non-employees as well. "Company restaurants are rapidly on the rise, which is increasingly blurring the boundaries between staff canteen and restaurant." Company food service, she says, is becoming "an emotional window onto company culture".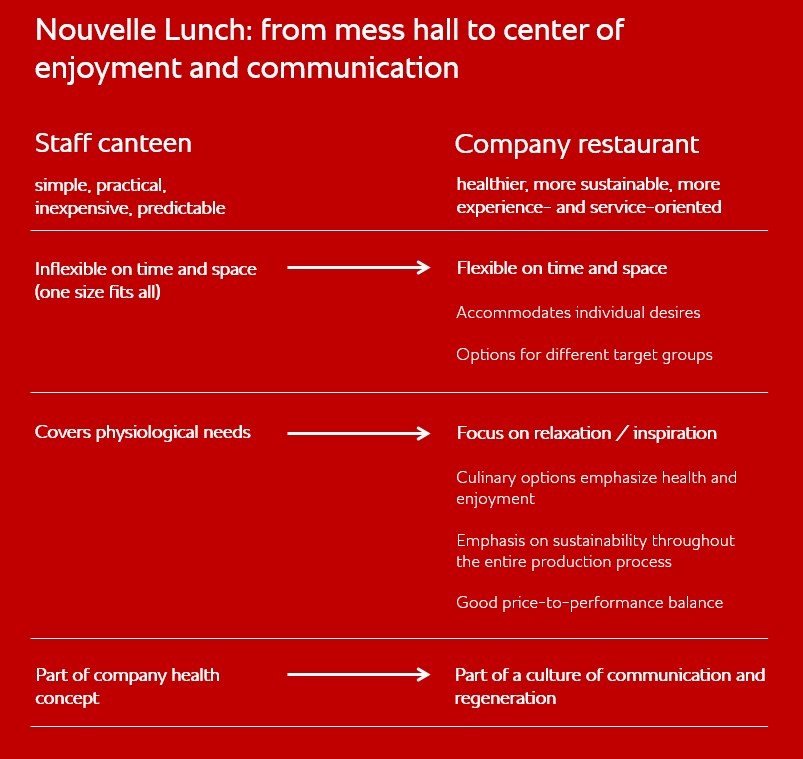 Staff canteens have always been gathering places, but in the modern, interconnected working world, that idea takes on new meaning – as well as a new importance. Informal meet-ups in a relaxed environment foster creative thinking, which helps employees generate new ideas or identify potential synergies.
This creates new requirements on the world's "new staff canteens" – and not just in terms of food quality, but also as regards hours of availability and division of space. Flexible, modular solutions are key –  spaces or zones that can be used for food consumption as well as for internal meetings, temporary workstations, or conversations with customers.
The long tables and benches that made staff canteens seem like food factories are rapidly becoming a thing of the past as well. Kochwerk Elbe, the company restaurant that the retailer Otto opened in late 2017 at its Hamburg location, also has several small, closed rooms where users can eat and hold meetings at the same time: business lunch 2.0.
"Healthy hedonism" – food as enjoyable fuel
Another big development is shaping the transformation of company staff canteens, and this one's about their main purpose: food. The "post-lunch dip" – the drop in energy and concentration levels we often experience after a big lunch – is so last season. The healthy hedonism trend is all about the idea that good food can – and should – be both healthy and tasty. It means turning away from a purely functional understanding of health, and also rejects the ascetic "self-denial" approach that has long been the hallmark of the healthy diet scene.
Investing in staff canteens at all levels pays off. Silicon Valley giants like Google, Spotify, and Dropbox were pioneers in this regard; now, more "traditional" companies are starting to follow their lead.
E*lounge, the staff canteen at Esprit's company headquarters, won the 2018 Internorga Future Prize in the category of Restaurants and Hospitality. The food service concept is designed for the location's approximately 1,000 employees, most of whom are women. It focuses on "holistic enjoyment", meaning healthy, light meals created using sustainable organic ingredients; the goal is to serve delicious dishes with a small ecological footprint. Veggie Day has been their most popular day for years now, and not only because the majority of the diners are female; as Rainer Roehl explained at the Internorga awards ceremony, it's also because "the vegetarian food isn't just meatless, it's also international, attractive and innovative." Options include smoothies and pancakes for breakfast, as well as meat, fish, and vegetarian dishes for lunch.
Iki, a First Group staff canteen at the First Campus in Vienna, was designed by some of the city's most in-demand restaurateurs in collaboration with Mochi, a Japanese-inspired restaurant. The decor alone is appealing, with tin lamps hanging from the ceiling and an open art gallery. The open kitchen behind the counter is a real eye-catcher that creates an open, cosmopolitan atmosphere. They managed to bring Michelin-starred chef Alfred Schoch on board as their head chef, which (along with the interior) lends the staff canteen an air of prestige. First Group employees receive €6 per day to spend at the company restaurant, but many of Iki's patrons aren't staff members at all – the company restaurant is accessible from outside as well as through the office building. Indeed, more and more people are choosing to spend their midday hours at a nearby company staff canteen rather than just heading for one of the usual restaurants.
Staff canteens as part of corporate identity
Spaces create culture. And having an appealing company culture is key when it comes to becoming and remaining an attractive employer. If companies want to keep (current or potential) employees motivated and retain their loyalty over the long term, alternative career models aren't enough – they also have to provide a working environment that reflects employees' changing values. As a result, company restaurants are becoming a fundamental part of many employers' corporate identities. Eating together plays a central role in that, especially among members of the younger generation. Besides their purely functional roles, the company staff canteens of the future will primarily serve to help employees – and potential customers – identify with the company more.
Apartment kitchens are shifting from purely functional spaces to places where social relationships are cemented, and company staff canteens are moving in the same direction. These new staff canteens are truly becoming the beating heart of the company.