They go by many names: dark kitchens, ghost kitchens or cloud kitchens – no matter the name or where in the world, they serve the same purpose in foodservice: fulfil off-premises orders fast for delivery. Created in response to the increasing demand for food delivery, the concept was already on an upward trajectory before the Covid-19 pandemic hit the world earlier this year. Ghost kitchens have made it affordable for operators – independents as well as chains – to branch into delivery as the units, often found on the outskirts of cities in warehouses or containers, offer reduced set-up, operation and labor costs.
"Ghost kitchens will see growth in the urban areas to allow more independent food operators to ply their trade with a lower start-up cost and operating cost," says Brandon Kua FCSI, senior consultant with Citrus Consult in Malaysia. "Opportunities in sub-urban areas will also gain momentum in ghost kitchen mushrooming to service the outer communities but we will see this happening is at least 2-3 years from now."
If the pandemic has accelerated the pace of growth of ghost kitchens, this development is predicted to continue. Market research firm Euromonitor, recently estimated that they could be a $1trn business by 2030. This summer the firm estimated that the US had 1,500 ghost kitchens, ahead of the UK with 750 but behind China's 7,500 kitchens and India's 3,500.
"Ghost Kitchens allow for concepts to create seamless delivery model businesses.  At some point Covid has turned any restaurant willing to be into a ghost kitchen. This growth is certainly being pushed harder and faster because of the pandemic.," says consultant Joseph Schumaker FCSI, CEO of Foodspace, adding a word of caution. "The pandemic can actually be bad for ghost kitchens if they don't already have an established brand. With so many restaurants quickly pivoting to a delivery model, new ghost kitchen concepts are struggling to gain market share and a foothold in the communities they are trying to serve."
The ghost network
Kitchen United and Zuul are just two of the operators in the space in the US while the UK has dozens of Deliveroo operated ghost kitchens and German company Keatz has established a network of ghost kitchen units across Europe.
Kristen Barnett, director of strategy for Zuul, points to several new trends in this year of rapid take-up. "We see a number of trends, including asset-light operating models, kitchen pods, virtual brands and conversions of commissaries into ghost kitchens. They are all driven by the foundational shift towards delivery experienced in the last five years and especially in 2020," she says.
These ghost kitchen operators have enjoyed a rare boom in what has been a challenging year for the foodservice sector. Regulations introduced as a result of Covid-19 have seen operators in most parts of the world having to close dine-in facilities as customers were advised to stay at home to keep safe. When they were allowed to invite diners in, it would often be with rules stipulating a limit on the group size or a ban on mixing households, which meant potential customers preferred to stay at home and order in.
For those restaurants that weren't already delivering it required agility to diversify as delivery became a means to their survival. Like ghost kitchens, food delivery was already enjoying a spell of growth, driven by a younger generation of consumers with an expectation to be able to order high-quality food for delivery at their convenience.
There's plenty of evidence to demonstrate the booming demand for delivery. In the US, the NPD Group found that delivery orders soared 67% in March. In August Uber reported a 103% year-over-year revenue increase for Uber Eats as part of its Q2 earnings.
On top of that, the pandemic converted people who had never previously considered ordering food delivery. According to consumer analytics company Second Measure in September, 34% of US consumers said they had ever ordered from a delivery service, up from 26% a year ago.
Barnett backs this up. "You're seeing the combined impact of a new wave of customers that have become more digitally adept than before due to the pandemic and the increased innovation in food delivery, both of which contribute to growth," she says.
In the UK McDonald's opened its first ghost kitchen last year and even before the pandemic, the fast food giant reported that delivery accounted for 10% of total orders.
In a sign that more operators are riding this delivery wave Chipotle Mexican Grill has announced its first-ever digital-only restaurant called the Chipotle Digital Kitchen. Though not a ghost kitchen in the traditional sense it marks a departure from the dine-in facilities with the assembly line customers are used to follow. "The Digital Kitchen incorporates innovative features that will complement our rapidly growing digital business, while delivering a convenient and frictionless experience for our guests," said Curt Garner, chief technology officer of Chipotle. "With digital sales tripling year over year last quarter, consumers are demanding more digital access than ever before so we're constantly exploring new ways to enhance the experience for our guests." Though the direction of travel is uncertain, in the longer term this impact of ghost kitchens might see new restaurants planning for a dedicated delivery area in the kitchen and including a pick-up zone within the restaurant. Most dine-in restaurants have spent years making the most of their space for dining room in order to optimize covers and revenue to make up for high rents. It does mean that few have dedicated space for delivery service.
Survival of the smartest
Barnett sees lots of opportunity for the future of ghost kitchens. "Food delivery was growing at a fast clip prior to the pandemic and there's no reason to believe it's slowing down anytime soon as more and more restaurants transition to the digital platforms to, quite honestly, survive 2020," she says.
"Consumers now expect brands to have a digital presence and want to support restaurants even if they can't physically go and visit the restaurant. Ghost kitchens are a natural response to the shift towards delivery since they enable asset-light expansion, and with the continued growth in delivery, they will continue to proliferate."
Kua says for ghost kitchens to continue to grow and develop, operators need to figure out how to balance profit, delivery coverage, freshness of food, collaborative efforts between facility-operator-delivery platform; and regulatory efforts in ensuring food safety and freshness post-pandemic. "Take-up rates will be high for now in the urban area ghost kitchens as people are figuring a way to survive and start up new F&B ventures," he predicts. "I anticipate a fatigue in the coming six months and we will see the full impact of the Covid-19 pandemic some time in Q1 2021. We are already feeling the effects and with the current third wave engulfing many countries, it will be difficult to say if cloud kitchens will have the same growth as we anticipate it pre-Covid times." Schumaker, meanwhile, says the future of ghost kitchens hinge on technology. "At some point the need to rely on Door Dash and GrubHub do not allow ghost kitchens to experience their full potential. I see the future being in technology that allows the operators to fully exercise multiple cuisine types out of one kitchen being delivered on-demand," he says as he predicts that the concept will strengthen with technology but in a post-pandemic world he believes it will fade.
"People will go back to also making food decisions based on either convenience or experience.  Ghost kitchens will only ever be able to solve for convenience."
Further Resources:
Trend Talk: All about Ghost Kitchens.
Free Download: Ghost Kitchen Playbook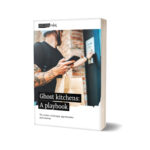 Download your Ghost Kitchen Playbook for free now.