News of a possible vaccine against Covid-19 gives the sector hope that it could be back to some sense of operational normality globally by summer 2021, but most businesses simply don't have time to hold out until then. There is no denying it, across the world the hospitality industry has had a nightmare year thanks to the virus. Businesses have been forced to temporarily close their doors to customers, and then those that survived the hiatus faced new regulations and restrictions, when it came to reopening with customer and staff safety in mind. Then in some places they had to close again.
Making changes
 Demonstrating great flexibility and ingenuity many operators have pivoted and repositioned themselves to operate in the new market, offering takeaway and delivery options to customers stuck at home with nowhere to go. This was a trend that had been impacting the restaurant business for some time before coronavirus crashed the party. In August 2019 The New York Times ran a feature about the rise of the virtual restaurant, in which it reported on the convenience for operators of running a restaurant without having to rent a space or hire serving staff and the convenience for customers of having food delivered to their door at the touch of an app. Alex Canter, who runs Canter's Deli in Los Angeles and a start-up that helps restaurants streamline delivery app orders onto one device said presciently: "Online ordering is not a necessary evil. It's the most exciting opportunity in the restaurant industry today. If you don't use delivery apps, you don't exist."
New experience
 Just over six months later Canter's words rang true as we faced the implications of a global pandemic. "The ability to order food for delivery or pick-up has become the new 'experience' that provides relief from the drudgery of living and working at home with little break," says Karen Malody FCSI, owner of a foodservice consultancy, Culinary Options, based in Portland, Oregon. "Where we used to go out and find relief and joy within the four walls of restaurants, we now seek that relief within our own four walls but with someone having cooked for us." From the operator's point of view futureproofing their offering and exploring ideas to evolve their business is always the motivation. Covid-19 has hardened resolve. In Restaurant Business earlier this year Wyman Roberts, CEO of Brinker International – parent company of Chili's and Maggiano's – talked about the portfolio of virtual concepts the company is developing. Its first excursion into the virtual restaurant business, It's Just Wings, has generated annual sales of over $150m. Brinker has an exclusive delivery partnership with DoorDash and It's Just Wings uses the kitchen facilities of its Chili's restaurants. Apart from adding some refrigeration space, Roberts explained that the launch was achieved at minimum cost with significant return. "There's a scale involved in virtual branding," he said. The implication being that the resources needed to set up a spin-off brand so rapidly are not available to smaller operators.
Out of the dark
 The option for potential virtual restaurants, without a bricks-and-mortar venue in which to set up a catering facility, is to rent space in a dark, or ghost, kitchen. These can be situated on industrial complexes where rents are lower and can help an operator or restaurant develop off-premises catering or delivery business. Diners who order from the apps may have no idea that the restaurant doesn't physically exist. Early in 2019 Kitchen United, a company that opened a hitherto rare beast, a dark kitchen, in a planned nationwide roll-out, in Pasadena, California. One of the first operators in the space was Wetzel's Pretzels. "For us, we see it as an incubator," Wetzel's Pretzels CEO Jennifer Schuler told Nation's Restaurant News. She said she and her team can study each third-party operator more closely while figuring which menu items consumers tend to buy most for delivery. Even back then the trend towards delivery could not be ignored. A global pandemic has accelerated that trend towards delivery via apps. Are virtual restaurants the model that could save hospitality businesses at this time? "All operators are having to have this profound conversation with themselves at this time," says Malody. "Many are simply saying no to the virtual model because it robs them of their entire motivation for being restaurateurs: to bring people into their space and create an experience for them. If an operator is perfectly fine with just preparing food and having it picked up and delivered, without on-premise hospitality, then it certainly will allow many to remain in business. But this is a personal choice: it simply is not a palatable choice for some."
Keeping the connection
There is concern that delivery apps may ultimately be harming the restaurants that we used to know and love, although they claim that they are only aiming to help them. Uber Eats in North America uses its neighborhood sales data to identify unmet demand for particular cuisines. Then it approaches restaurants that use the app and encourages them to create a virtual restaurant to meet that demand. However, restaurants using the apps can pay 15-30% in fees on each order. This is quite a chunk for small businesses operating on slim margins. Another worry about the rise in home delivery is that the connection between the chefs producing the food and diners will be lost. Producing a meal can be likened to a performance and many chefs appreciate feedback from diners. "Are restaurants becoming merely suppliers of prepared food? If that becomes the case, then the historic meaning of hospitality requires rethinking and examination, says Malody.
"With the on-premise experience removed – like with virtual kitchens – who really cares from whence the food came if it is packaged well and prepared beautifully? However, I hold steadfastly to the fact that human will always want true restaurants in which to celebrate, commiserate, collaborate and congregate."
Further resources:
Staying ahead of the game. Rules, strategies, moves – Rational offers everything from one source. For Ghost Kitchen, Dark Kitchen, Cloud Kitchen.
Free Download: Ghost Kitchen Playbook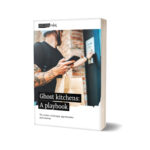 Download your Ghost Kitchen Playbook for free now.