Dining cultures are dynamic: as society changes, so does the way it eats. In this day and age, change is the only constant. As we transition from the industrial age to the age of knowledge, in which the real world is often organized around the digital one, our new lifestyles and family structures mean that we're more frequently in motion, in-between, in "third places".
So it's no surprise that people are eating more and more meals in that in-between space, rather than at home, on a fixed schedule. The data analytics company Nielsen recently discovered that, between 2003 and 2016, American households increased their spending on dining out by 94 %.
People aren't eating bigger meals, though; they're eating better quality, healthier food, and they're doing it more frequently.
Breakfast, lunch, and dinner have given way to frequent, smaller meals; in fact, those smaller meals seem to serve a similar purpose of providing temporary anchor points within our often turbulent day-to-day lives. Basically, "snacking" has taken on an entirely new meaning.
Colorful bowls: the hallmark of the new snacking culture
Most people think of snacks as a quick bite to eat between "real" meals – some trail mix, a piece of fruit, a candy bar, or maybe a to-go sandwich from the grocery store. But the new snacking culture expects more: more substance, more taste, more nutrition. Thanks in part to international culinary influences, one of the secret stars of the "snackification" world is the bowl, a trendy dish that offers a wide variety of healthy, tasty ingredients, arranged attractively in… well, bowl form, obviously. Bowls are all about color and flavor – done right, they practically radiate healthy energy.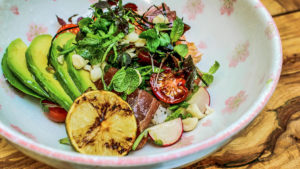 Snacks are changing, mealtimes are shifting
Nutritional expert Hanni Rützler sees the trend as part of an overall context of non-linearity. As she describes in her Food Report 2020, eating more mini-meals per day doesn't mean that we're all going to stop eating our three squares entirely.
Good old meat-and-potatoes dishes will probably even experience a revival, albeit primarily in restaurants. That's partly due to the increasing number of one- and two-person households, partly because meat is losing its status as an everyday thing. Even larger families, she says, will likely reserve said meat-and-potatoes meals for weekends or special occasions.
New and innovative restaurant concepts are supporting snack culture by offering a wide variety of healthy, high-quality smaller dishes for dine-in or carry-out. Larger restaurants, smaller bistros, supermarkets and even food trucks are responding to the trend with tasty soups and ramen, spring rolls and burgers, tapas and bowls.
Snacks are changing, mealtimes are shifting – our dining culture is becoming more fluid in response to the 21st century lifestyle.
Trend forecast
The snackification concept fits perfectly into our "to-go" lifestyle. In combination with increased nutritional awareness and a greater emphasis on eating well, it also means people are becoming more mindful of what they eat.
In the future, mini-meals will become an increasingly important part of both restaurant and retail food service, as snacks gradually transition from a between-meal thing to the actual meal.
The one tradition we'll likely see a lot less of: big three-course lunches. People will still enjoy elaborate meals, of course, but they'll probably reserve them for evenings, weekends, and special occasions.