Eating out and meeting friends – that's the first thing Germans want to do after the Corona pandemic. What sounds like a naïve pipe dream is actually the result of a recent survey conducted by the opinion research institute YouGov in cooperation with the statistics portal Statista. You could choose up to five activities. At 57%, "dining out in a restaurant" clearly came out on top! There are also other numbers that can give us hope: 55% want to meet friends and relatives first, one third each want to travel inside and outside Germany, and 24% are looking forward to going to concerts and events. 18% plan to visit a bar or club or party as soon as the Corona restrictions are lifted, while just as many crave a pampering session at a sauna, spa or wellness center. 17% want to go shopping, 13% want to go to the gym and 12% want to go to a museum or an exhibition first … all activities that are often combined with a trip to a café or restaurant!
Going to restaurants are what people are missing the most during the pandemic
A survey conducted by the reservation platform The Fork also indicated that going to restaurants are what people are missing the most during the pandemic. 79% of participants across Europe selected this, which made it even more important than meeting friends and family (73%).
In January, the checkout system and e-commerce provider Lightspeed also asked about the first activity people plan to do post-lockdown in an international online survey. The participants surveyed live in Germany, Austria, Switzerland, the Netherlands, Belgium and France. The answer here was also clear: go a restaurant! In Austria, 26% of people gave this answer, around 29% in Germany and Netherlands, close to 35% in Belgium and, get this, 44% in France. Guest prefer a conventional restaurant. The participants were also asked about their willingness to support Corona-related price increases. In this respect, participants in Switzerland proved to be particularly willing to pay more; in general, however, higher prices seem to be a sensitive issue. In Germany, only 35% of people surveyed supported even increases of maximum five-percent.
The survey also asked about types of support. In this case, "eating out more often" consistently made the cut. But what exactly do pandemic-stricken guests want? As for the United States, a recent survey conducted by the U.S. National Restaurant Association provides information – and the result are truly inspiring. 88% of those asked like to go out to eat. The main reasons are the opportunity to get together with friends and family, not having to cook for yourself, and enjoying dishes that you can't easily make at home. 77% of all participants plan to use take-out and delivery services in the next few months. 49% of participants in the survey plan to go to a restaurant, if possible, and often like to sit "outside indoors" in heated tents, for example. 53% of participants in the survey said takeout and delivery were an integral part of their current lifestyle. 68% want to use more such services after the crisis than they did before. In doing so, the association also shed light on the fledgling topic of ghost kitchens and found that it is definitely important to 72% of diners that the food they order comes from a place they can actually go to.
And what are the guests most hungry for today?
According to the US study, comfort food is in demand, but so is healthy food, but don't experiment! According to the survey, novelties have not become hot sellers virtually anywhere in the United States. It is also interesting to note that one in two of the U.S. diners surveyed mixes items from the restaurant with food they prepare themselves. 56% of participants in the survey showed interest in menu kits with ingredients to cook themselves. On the other hand, according to the survey, conventional restaurants are also increasingly offering complete menus, which is a good opportunity to get out of the comparative range in terms of price as well as generate extra sales. Every second guest surveyed would also opt for meal subscriptions at a discount. A real revenue boost! In addition, a good half of those surveyed would also order everyday foodstuffs such as bread and milk to go along with the meal when they are sold by the restaurant.
Guests miss going to restaurants!
The Nuremberg NPD Group pollsters also provide insights that offer encouragement and perspective. The most important finding of the October 2020 study is that "Guests miss going to restaurants!" In contrast to the U.S. study, special meals or new dishes are the most important aspects here. However, 44% of participants agreed with the statement that restaurants are the highest-risk location for Covid-19 infection. Careful and clearly communicated hygiene measures are therefore the be-all and end-all. Another important point is that one in three uses contactless payment systems. Although digital solutions for reserving and ordering are well-known, they are still rarely used.
In the USA, the importance of digital solutions for guests is even more pronounced. A recent study conducted by software provider Appetize indicates a marked interest in convenient and contactless ordering and payment options, as well as bonus programs. Even once the crisis is over, 77% of those surveyed would prefer to make contactless payments. The study by the National Restaurant Association also showed that every second location surveyed has expanded its digital ordering and payment services; therefore, digital ordering and payment is no longer optional, but rather a must. In short, anticipation of better times is palpable among diners. With clever concepts it can already be properly sparked!
Free Download: Ghost Kitchen Playbook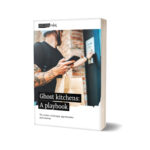 Download your Ghost Kitchen Playbook for free now.