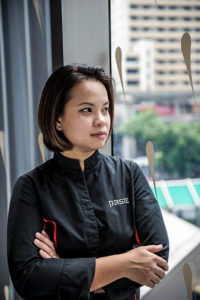 She's THE queen of Thai cuisine, no question about it. Paste, Satongun's restaurant in Bangkok, earned a Michelin star and number 31 on Asia's 50 Best Restaurants in 2018, the same year she was crowned Asia's Best Female Chef. In March, she lit up the stage as a guest chef at Ikarus, the two-Michelin-starred gourmet temple in Salzburg.
Perhaps most surprising: 41-year-old Bee Satongun originally had no intentions of becoming a chef. When she was young, she didn't have a choice – her parents ran a small restaurant in Bangkok. "Every morning," Satongun recalls, "I had to help out in the kitchen before school. And then once I finished my homework in the afternoon, I was back at it again." By 13, she developed a rebellious streak. "When you're born into something, you don't automatically think that you have to make a career out of it," she explains. "I wanted to look around and find something else. Plus working in that kitchen was really, really tough," Satongun adds. Only at age 28 did Satongun (re)discover her love of Thai cooking as a craft. And all thanks to… an Australian.
A meeting with destiny
When Satongun met her future husband, Jason Bailey, she was working at a regular nine-to-five secretarial job. Conversing with Bailey, a chef at an Australian Thai restaurant, helped her see her "old" world of Thai cuisine with new eyes. "I wanted to get back in the kitchen," she says. Looking back, Satongun thinks of the day she and Bailey crossed paths as a meeting with destiny. "It didn't take us long to realize that this was something we both wanted to do. We wanted to become the best, and we wanted to realize our dream together." What dream? Having their own restaurant. And more than anything, Satongun says, "I wanted to be a chef." Bailey offered her a position cooking at one of his Thai locations in New South Wales, Australia. But her first foray back into the kitchen had more of a chain-restaurant feeling to it – nothing at all like the food she'd grown up on. "Every single step of the process was part of a strictly regulated system. How you move, where you set even the tiniest little thing down… I had to learn it all," Satongun recalls with a wry smile.
80 percent tradition, 20 percent innovation
Ambition coupled with a near-manic love of Thai food led Bailey and Satongun to a logical next step: "We both wanted to move to Thailand." Not just for its beautiful beaches, obviously. "We wanted to show Thai people what we could do… and really, that we could do it at all." The power couple finally realized their dream in 2013, when they opened Paste in the center of Bangkok – bankrolling the entire project themselves. Jason Bailey handles business operations and F&B management, while Satongun is the head chef. "Heirloom creative Thai cuisine" is the name of the game at Paste.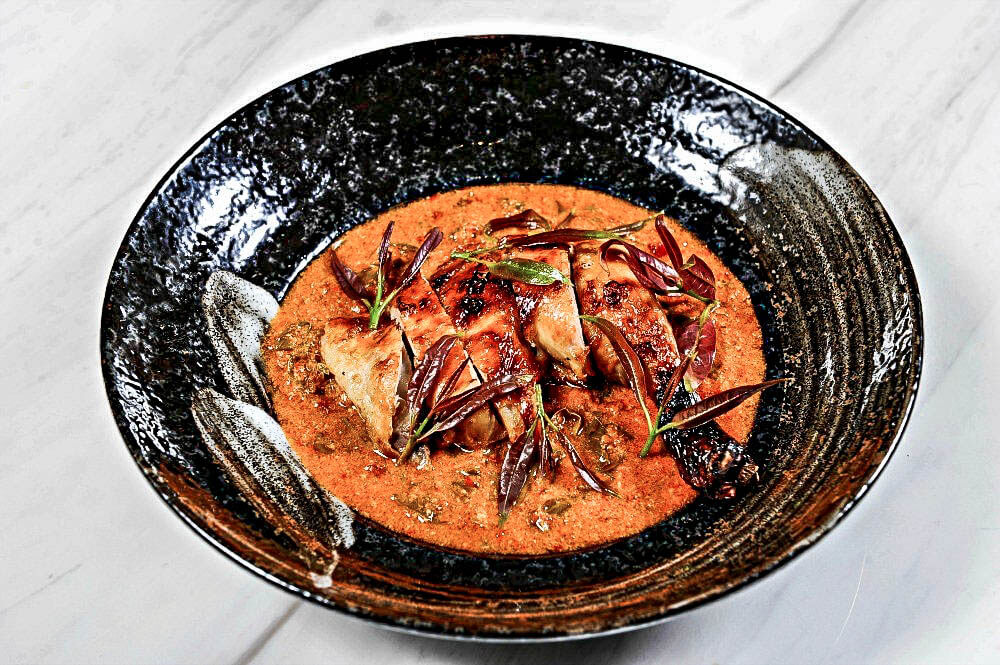 Satongun goes by a simple but effective philosophy: 80 percent traditional specialties, 20 percent innovative influences. Two main factors helped Paste rapidly ascend to one of Bangkok's most innovative yet accessible culinary hotspots. First, Satongun draws upon old, often long-forgotten recipes that her fellow Thailanders find inspiring in many ways. Satongun's ceaseless hunger for new ideas often leads her to antiquarian cookbooks once owned by Thai aristocrat families in the mid-19th century. Second, Satongun approaches those old recipes in new and innovative ways, deliberately employing a principle that's long been part of Thailand's culinary tradition: constant change. Thai cuisine is a cornucopia of spicy, pungent flavors with plenty of rice and seafood; ever since the 6th century, it has been influenced by not only Chinese, Japanese and Laotian cuisines, but also those of the French, the Dutch, and the Portuguese. "The more we studied the recipes and the more we traveled around Thailand, the better we got," the star chef says. From 2016 on, Satongun recalls, their customers' songs of praise grew progressively more effusive. "They told us the food was like nothing they'd ever had. A lot of people found our flavor profiles very complex. That was when our success really started."
First-class technical finesse
In terms of technical refinement and playful flavor combinations, it's hard to top what the Queen of Thai cuisine has on offer at Hangar-7. Exhibit A: the amuse-bouche, a tapioca dumpling with smoked trout, peanuts and mustard greens. It's the perfect start to the meal, and also a genuine highlight in its own right. The soft, slightly sweet dumpling and smoked fish are carefully arranged atop an almost neon-colored mustard green just large enough to fold up and eat in one bite. It's an absolute explosion of taste, a symphony of sweet, smoky and spicy flavors complementing and augmenting one another. Perhaps most astonishingly, none of the flavors clash or cancel one another out – they all unfold into a harmonious whole, probably partly thanks to the peanuts, which bind the individual components together and round off any potentially sharp corners. It's a technical and aromatic masterpiece by the Thai chef, and one you're not likely to see duplicated anywhere else – except, of course, by Executive Chef Martin Klein and the unparalleled team at Ikarus, for whom no culinary challenge is too great.
The keys to the kingdom
The next course – shiitake bouillon with abalone and coconut – shows us that Satongun isn't just a technical master of her craft, she's also one of the most playful chefs out there. The shiitake bouillon is surprisingly clear, creating a pleasant contrast to the thick, dark pork-chili marmalade and scallops served just prior. This time, though, the spiciness is extremely in-your-face by European standards, to the point that it's tempting to see the tiny pink blossoms accentuating the bouillon as chili peppers.
Among the most striking elements of not just this course, but the entire menu, is the abalone, which is served in finger-sized strips alongside the dark shiitake mushrooms. It's slightly hard, but in a good way – think gently cooked bamboo shoots – making it a perfect contrast to the soft, buttery, melt-in-your-mouth scallops. More importantly, though it's a new adventure – it's just plain fun to try. It's almost like Satongun is gently taking her European guests by the hand, leading them deeper and deeper into her kingdom's mystical forest of culinary traditions.
The courses that follow aren't served in individual portions; in keeping with another Thai dining tradition, we've gone share-size. King crab combined with a salted duck egg, coconut milk, and Thai eggplant is one highlight. And Bee Satongun wouldn't be the culinary queen she is if she didn't save the best surprise for last: an inspired dish of veal tongue – "a very traditional Thai food," she assures us – with cotton fruit, holy basil and green peppercorns.
Thailand conquers the world
It's Type-A kitchen nerds like Bee Satongun that are reviving entire culinary cultures around the world. Most Paste customers these days are international – European, Australian, or American – guests, many of whom reserve their tables weeks in advance. Asia's Best Female Chef is often viewed as a controversial award, but Satongun views it with an almost selfless pragmatism – to her, it's more about recognizing Thai cuisine in general. "It's valuable to me as well as to Thai culinary traditions, and Thai women in general. It proves that we can keep pace with international standards. And more than anything, it gives me a bigger platform to help bring Thai cuisine to the world." No doubt about it: Bee Satongun's not going to disappear from the international fine dining scene any time soon… and neither is Thai food. It seems like the two amount to the same thing anyway – after all, where would gourmet Thai cuisine be without its Queen Bee?
Asia's best female chef, 2018
Growing up in a restaurant-owning family in Bangkok, Bee Satongun was helping her mother make curry paste even at the tender age of five. By the time she hit her teens, she was sick of all the hard work in the kitchen, so much so that she took a different career path. After settling into nine-to-five life as a secretary, she met Jason Bailey, an Australian chef specializing in Thai cuisine. Through him, she rediscovered her own country's culinary culture… and together, they opened Paste in Bangkok in 2013. In 2018, their re-interpretations of traditional Thai recipes garnered them a Michelin star and the number 31 spot on Asia's 50 Best Restaurants. That same year, Satongun was named Asia's Best Female Chef.