Rational's fourth TrendTalk live and interactive webinar on the hot topic of ghost kitchens aired on Wednesday 8 September. Michael Jones, editorial director of Progressive content and FCSI's Foodservice Consultant magazine was moderating and the subject under discussion was the rapidly growing confluence between ghost kitchens and the retail segment.
More than 270 registrations across 30 countries logged on to watch, listen and contribute many pertinent questions. Speakers included Charlie Farr, Global Head of Delivery Kitchens and 'Dark Store' Grocery Delivery, for PKL, a Lowe company; Rational's ghost kitchen specialist, Stephan Leuschner, and its retail specialist Benjamin Nothaft, who gave a joint presentation on how changing consumer habits are causing a massive shift in the food-delivery ecosystem. Finally, Michael Jones spoke to Francesco Cassera COO of KUIRI, one of the fastest growing ghost kitchen brands in Italy.
Starbucks on steroids
Charlie Farr started his career in real estate, advising clients such as Joe and the Juice and Honest Burger on property acquisitions and portfolios. He decided to move into prop tech with Deliveroo at the early stages of the delivery kitchen idea. They were trying to figure out how to use the data Deliveroo had to identify areas undersupplied with restaurants. "Initially we had five people. A year later we had 90 people and 100 delivery kitchens worldwide," he said. "Someone described it as being like Starbucks on steroids – we were working very fast, constantly innovating under high pressure. It was an amazing experience."
Farr's role at PKL is to focus on innovation and growth into new ideas, such as dark store start-ups, Weezy for example in the UK. Building portable dark store sites within open-land sites is something he is testing with different operators. Innovations such as smart monitoring systems in dark stores' equipment can provide live tracking of the equipment's performance and gauge the efficiency and return on investment of that equipment.
The grocery delivery market has grown at an exceptional pace in a short time and Farr says PKL, as part of Lowe, is well set up to make the most of any opportunities this presents. "Lowe has been providing refrigeration equipment to the largest supermarket chains in the world – Walmart, Target and Amazon – so we are very experienced in this market," he said. "We want to be a one-stop-shop for equipment, rental and purchase for technological products and tracking through equipment. Also being able to advise on the design and build of dark stores."
Synergies between ghost kitchens and dark groceries
There have been many news stories recently about major retail companies linking up with delivery and ghost kitchen companies. Stephan Leuschner and Benjamin Nothaft mentioned a few examples such as Kroger and Kitchen United and Wow Bao opening ghost kitchen stores in branches of Walmart in the US.
"In the future the delivery market will grow even more," said Stephan Leuschner. "It's all about getting your food delivered, your groceries delivered, or a combination of both. We see great synergies in the ghost kitchen and dark grocery segment."
Rational retail specialist retail specialist Benjamin Nothaft then added: "The in-house, bricks-and-mortar experience will be about entertainment. If you want to get people in the store, you have to give them a reason to come. Just offering groceries is not a reason anymore."
Michael Jones then spoke to Francesco Cassera COO of KUIRI, a cloud kitchen space set up to connect visionary restaurateurs in Italy and to help accelerate food start-up businesses by reducing costs, sharing space and, also crucially, sharing ideas.
"We set up the company as we realized there was a gap in the market to help the Italian and International brands present in Milan to reach their goals by reducing their costs, making them more visible on the main delivery platforms and help them to fulfil more orders in a shorter time," said Cassera.
One of the ways KUIRI di this was to use the very latest technology and state-of-the art equipment in its locations. This cuts down delivery time, which is huge in this market. Another way KUIRI provides a unique service, which is entirely different to previous iterations of ghost kitchens was the locations it chose for its facilities, as Cassera explains: "We located ourselves in the city centers, not the outskirts. We chose buildings with many windows so clients/customers could watch the food being prepared. This allows us to be perceived as more transparent, so therefore high quality."
Sieh dir diesen Beitrag auf Instagram an
In fact, the company name is the Esperanto word for cooking, which states exactly what the company promotes. Cassera explains that they like to diversify with many different brands at each of their locations. "We want to encourage the different brand owners to cooperate and exchange ideas, thereby helping them to grow and cut down costs."
The explosion of the ghost kitchen market is one of the main challenges KUIRI faces in the future. However, Cassera feels the unique offering of his company will help them stand out from the competition and continue to grow. "I think we have to be careful not to be in too much of a hurry as I believe the opportunities will present themselves to us as we keep on working. We have to keep focusing on the clients and their needs while trying to be as flexible as we can."
Free Download: Ghost Kitchen Playbook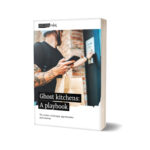 Download your Ghost Kitchen Playbook for free now.