Congratulations on the successful online launch. How many market launches did you experience?
Thank you very much for the congratulations. This was my 7th launch. But every launch turns out different than you think at first. This year COVID-19 has put a large burden on us, after all we wanted to launch at the INTERNORGA in Hamburg. And then things turned out quite differently.
The RATIONAL launch parties are legendary. This year, however, the launch took place exclusively online. How was the first time?
Exciting and challenging. But in the last few years we have invested a lot in our online area, so we were already very well positioned to react to this sudden adjustment. And that has paid off. Important online tools, which were being tested before the launch, have now been implemented and supported the rollout. Of course, not everything always runs smoothly, but we have managed to launch a great innovation journey.
With the iCombi Pro*, RATIONAL has obviously hit the nail on the head once again. How do you do that?
We listen to our customers. As stated in our philosophy, it is our goal to offer our customers the highest benefit possible. And that is only possible if you are close to your target group and know their wishes and needs. We also call this "being intimately connected". This is the only way to understand their challenges and find the best possible solutions.
How do you know in advance that this is the right way and that the market does not suddenly need something else? One example is the airplane model A380: When it was finally finished, nobody was asking for a large aircraft anymore.
Like I said, for one thing, it's listening. On the other hand, it is also the experience and competence. And those who have specialized in combi steamers over many years naturally collect both and can use them successfully. On top of that you must remain flexible. When trends in the kitchen change, we have to react quickly to keep our promise of offering customer benefit.
How long does a development process take on average and how many people with what specific background are involved?
This, of course, depends entirely on the scope of the innovation. Back then, when we only developed and introduced the SelfCookingCenter® XS, it took months. Now we have launched a whole portfolio with a completely new cooking system. It has been taking a little longer than that, after all, there's a tremendous amount of research behind it.
Can you tell us how many working hours and how much investment was behind the innovation?
More than 100 developers, physicists, software specialists and cooks have invested a lot of time into the development. 17,000 gigabytes of data and simulations alone have been generated. And they have managed to set a new standard in the industry. We have also invested a double-digit million sum in new production facilities.
When a new car is being developed, there is always a so called "Erlkönig" (prototype) for testing. Does RATIONAL also have an Erlkönig? And who gets to drive?
Yes, there is. We call it field test or market test. Selected customers from various target groups test our cooking systems so that we can be sure that we developed the correct product. Of course, we also test ourselves beforehand; for the iCombi Pro, that meant over 1,000 functional tests and hundreds of endurance tests. Our field test customers were accordingly full of praise for having already received such a sophisticated cooking system.
Does RATIONAL pursue a vision when it comes to developments? Or where do the ideas come from?
Ideas come from our customers, from new technologies and of course from us. Today we have more than 600 patents which prove the innovative strength of RATIONAL. And of course, we know exactly which path we want to take. We put a strong focus on the future, where trends are heading, what is really needed. We think in the very long term, but at the same time we are flexible enough to implement trends even at short notice. And as you can see, we have always met our customers' needs well.
What was the basic idea behind the iCombi Pro?
We wanted to make it as easy as possible for our customers to operate and work with our cooking systems. It was also important to us to develop a very efficient cooking system that would enable our customers to save money every day. And what is also important: flexibility. Anyone who has ever been in a kitchen or worked inside one knows how essential it is in all phases of production and serving. To meet this challenge, it was important to make our cooking systems more intelligent. And that's exactly what we have done.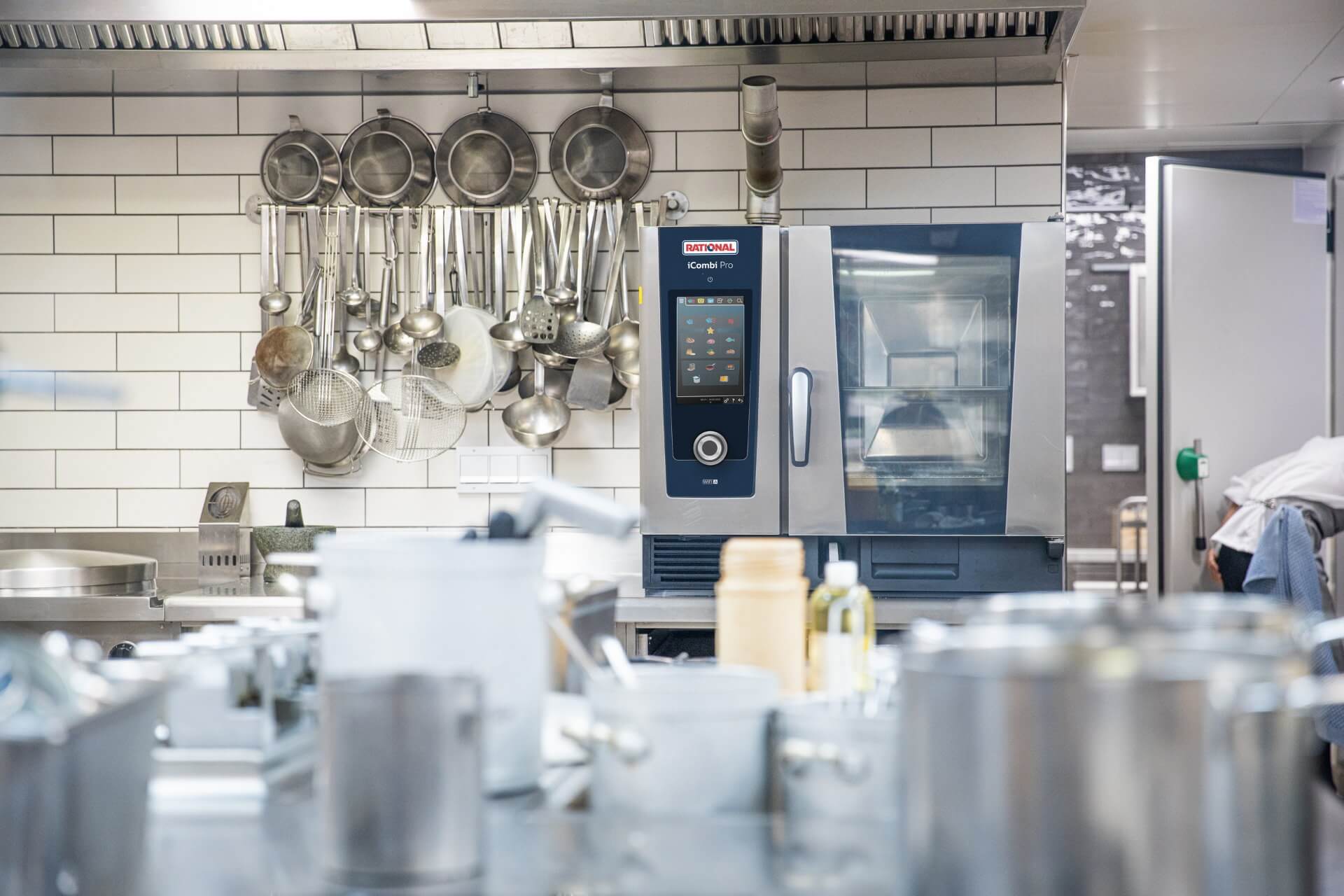 The "i" in the iCombi Pro stands for intelligence, among other things. Does RATIONAL now bring artificial intelligence into the kitchen and take away workstations?
It is absolutely not about cutting jobs, but rather about establishing more quality, healthier ways of preparing food and making guests more satisfied. We want to support the chef or user in the best possible way. With a cooking system that makes work easier and helps whenever it is needed. Yes, you can also save working time. However, it is up to the owner to decide what he does with it. He can use the time he has freed up for new concepts, new food offerings, more creativity or simply to pamper and delight his guests even more. This brings more business and secures jobs.
Is the development now completed and in two years time a completely new model will be available? Or will there be a further development like there is within the software development with a version 1.2?
RATIONAL is known for not resting on our laurels. We never stop working on a thing and are always developing it further. Even as a market leader, you always have to be better and lead the way. Therefore I can only say: Stay tuned.
Until now RATIONAL has always been famous for its live events. But these will no longer be possible in future to the usual extent. So how can I, as a chef, get to know the newcomer?
There are many other possibilities, one of which we already carry out regularly. Since a few weeks you can also experience our cooking systems online, in so-called webinars. You can watch a RATIONAL master chef cooking and ask your questions immediately via a chat function. The response from customers is overwhelming, and there is a lively exchange of ideas.  We will come up with a lot more to inspire our customers. Online or hopefully soon live again at our numerous event locations.
Mr. Fink, thank you for the interview.
*) Product availability in the Americas and South Asia coming soon.