This is because the company procures the ingredients, prepares the meals, packages and delivers them. And all this in the name of a real restaurant or a digital brand. The owners of the restaurant or brand can concentrate on managing the restaurant, marketing and developing their brand-specific dishes. KTCHNrebel talked to Mo Mirza who has been working since the end of 2019 as a product manager at Kitopi. People like him take care of everything else.
How did Kitopi start?
Kitopi started in January 2018 with one central kitchen where we were delivering from. Within the first year we grew to six kitchens. Fast forward to date, we have over 35 kitchens an over 150 brands across three countries: UAE, Saudi Arabia and Kuwait.
Where was the first international kitchen?
We expanded regionally to both Kuwait and Saudi. We really believed that Saudi is going to be a massive market and we were excited about the potential.
In 2018, how many people did you have?
Within the first few months of operation, we were at a hundred employees and today we are over a thousand across our different regions and kitchens.
This is impressive! This has to be known by people, honestly.
Even for the people who work here it is an incredible speed. You blink and one month feels like a year worth of effort.
What was the most challenging thing in the Kitopi development?
Something that stands out to me is the difficulty of delivering authenticity to the brand and delivering that food consistency across such a large variety of brands. Sushi customers have expectations very different from pizza customers. The fact that we managed to overcome that, which is one of the more difficult parts of our business, and deliver an authentic experience to each brand, that was quite challenging.
What are the main differences of delivery kitchens in comparison with catering or restaurant kitchens?
At the scale that we operate in we are able to leverage significantly more technology. That allows us to often exceed the expectations of our partners. So cooking food more consistently at a more affordable rate and delivering it often times faster.
Let us say I am an owner of a single restaurant and I want to expand. Can you tell us the journey?
Sure. Let us start with the journey of a brand. A brand or a restaurant would approach us and they would say, "Look, I want to grow my business!" What we would do is sign confidentiality and we would onboard and license their recipes. Then we would onboard them within 14 days to our platform. We would be able to first position the brand in the location where it is needed most. We would do the research to find out this brand would be most successful in this location. Subsequently we would scale that brand both nationally and regionally. What that provides for the brands is rapid scalability with near zero capacity cost and the cost of doing business is drastically reduced.
Why do you think you are able to multiple in such numbers and to grow so many kitchens?
Honestly, Three things come to mind here. First, I really believe we have the best people. We have some of the finest minds in the industry and we are all very targeted and aligned on what the vision is. Second, First mover advantage is a big one considering how we are opening up a whole new catagory. Third, Technology, We are not so much restaurant as we are a tech company looking into the restaurant industry. When thinking tech first, we bring all the thinking behind scalability right into our business model. We are not opening one restaurant then another restaurant; we are creating the platform in the network.
From a design perspective what was the impact of the development of cloud kitchens?
Our platform has changed several things in the industry. One is the cost of doing business. Having a shared space for kitchens allows us to utilize equipment in terms of shared equipment space and staff. Also from the brands, it offers the latest and greatest technologies and best practices that we have across our network. In terms of design there is more of an emphasis on workflows and the sharing of the kitchen equipment. Sections need to be more accessible from different areas to different operators. I think that is a shift that kitchen consultants are starting to make. The industry as a whole is going through a similar shift to like what co-working or co-residential space is. Where there is more of a focus on shared space and the utilization of that and efficiency and movement as opposed to silos of a restaurant or even in the cloud kitchen space as opposed to the real estate model where it is like you get a certain square footage and you operate within that.
What would you expect from the consultant if they would design your kitchens?
The thing that I noticed the most when I walk into our kitchen is our efficiency in space utilization. Walking into a hotel kitchen where you see a lot of equipment spread out over a large space. We do not have that luxury, so our equipment is floor to ceiling and every inch is considered and well utilized. We constantly measure the progress of how we utilize the space, the equipment's utilization itself, the workflow, the efficiency of walking around and going from one equipment to another. I think that for kitchen consultants the focus should be how they get the most out of the space.
How do you select the partners you work with?
With any partner that we work on the equipment front, we go through a phase of first doing the research on the company and then bringing their product in for an evaluation. To take an example with Rational. When we actually tried it out in a real world setting, we saw a measurable impact on efficiency that we were gaining. It is the simple things as being able to use the Rational in an ongoing basis and cooking multiple foods at the same time. Programing it for different foods gives us ease of training at scale. That is something that is really important to us. Also, the smart nature of the device is crucial for us because Rational allows us to integrate and to pull data, which is really important to us analyzing and designing future kitchens.
What was the impact of the pandemic and how did it change your operations?
Most industries in the world were impacted in one way or another by the pandemic. Another area we differentiated our business is our ability to leverage technology to improve food safety immediately. Within the first couple of days of the announcement we had released thermal cameras, less than a couple of weeks later we have released AI bots in all of our kitchens. That allows us to spot violations like the removal of masks or operating without gloves. The cameras would send notifications on these violations first to follow up. What that has resulted in, is us being able to deliver food at a standard that is significantly higher than anything that is out in the industry today.
Thank you for this interview.
Further Resources:
Trend Talk: All about Ghost Kitchens.
Free Download: Ghost Kitchen Playbook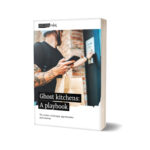 Download your Ghost Kitchen Playbook for free now.