For the third instalment of Rational's 'Trend Talk: All About Ghost Kitchens' webinar series the topic under discussion was how to successfully navigate a roadmap for growth. Michael Jones from Progressive Content and FCSI's Foodservice Consultant was again in the chair and he welcomed more than 400 participants from more than 40 countries. Kicking off the session was Jones's interview with the South African entrepreneurial team behind Jozi Cloud Kitchens in Johannesburg, Khalipa Zulu and Simele Shange. From an investment banking and entrepreneurial background respectively, the pair had already run a successful brick-and mortar restaurant in their home province. They wanted to move to Johannesburg but found rents too expensive so decided to pivot to a delivery model. "The experience of running our own restaurant showed us how much it costs to run a restaurant, how much revenue goes to cover those costs, especially front of house," said Shange. "We immediately knew we couldn't do that in Joburg because of high rentals and high cost of labor. At the time, we didn't know what a ghost kitchen was." Zulu and Shange realized that they were not the only operators facing these difficulties so after exhaustive research into ghost kitchens, they found their site, started construction in December 2020 and opened in March this year. "We decided to run a multi-revenue stream type of facility – pick up, sit down, internal in-house delivery and third-party delivery," said Shange. "Also, when you come into our facility, we do all the paperwork for you. Municipal registrations, licensing, we'll on-board you to Mr D and Uber Eats. We have a full-time cleaner to clean the grease traps in each kitchen and the general areas. All things to make life easier for our tenants so all they have to do is concentrate on running their kitchen and producing quality food. It's not so much a landlord/tenant scenario, we've looked on it as a partnership; together we make a quality product." The biggest challenge to Jozi Cloud Kitchens' growth was finding the right tech partners. Shange reached out via LinkedIn and found OrderB4. "There's knowledge out there. People will help if you ask for it," he said.
Kitchens of tomorrow
There then followed a presentation by Randy Murphy CEO of OrderB4, based in Austin, Texas, US. Although he has a background in tech, for 15 years Murphy was a multi-unit, multi-brand operator in foodservice. He resonated with the entrepreneurial excitement behind Jozi Cloud Kitchens. He set up the platform OrderB4 to allow operators the chance to compete with the third-party delivery providers. "About eight months ago we found that the way we'd architected our software made it a perfect fit for ghost kitchens and virtual brands," he said. "We believe in software for the kitchens of tomorrow and Jozi Cloud Kitchens is exactly that. Here in the US, it is difficult to make money in the middle market restaurant space. It's a low-margin business, you need volume, but if you have enough revenue the economic model will work," said Murphy. "But especially this past year, with Covid, it is too risky. I believe, here in the US, one third of the $900bn middle market restaurant business will go into a ghost kitchen or virtual brand setting, simply because it makes sense. It actually makes the business profitable. That's why we're pleased to be focused on this niche we do believe it's going to be the kitchen of tomorrow," he said. "I love Simele's comment on the four revenue streams, because that's what we're seeing," he continued. "It used to be just delivery with ghost kitchens. Now facilities are being set up where they see 30-40% of it not as just pick up but dine-in. Bars are being added to ghost kitchens and playscapes for families. It's evolving very fast." The OrderB4 software is evolving with the market. "It's a massive market with $50bn invested over past two years and an expected market of $300bn by 2030 in the US alone. Estimates show the market could be worth a trillion dollars in Europe alone by 2030," said Murphy. "We hope to add in rent collection and utility payment so we have a ghost kitchen operating system. There's no tech out there that does this." It was then the turn of Stephan Leuschner, director international key accounts for Rational to present, addressing the five challenges facing operators that want to scale up and grow their concepts.
These are:
Finding suitable locations
The difficulties of finding the right staff
Sourcing specific food locally
Maintaining control over multiple outlets
Maintaining food quality and hygiene standards.
"To be successful needs a change in mindset," said Leuschner. "Traditionally, success might have meant cooking techniques, great chefs, creative people. It was operator-focused. The aim with ghost kitchens is to offer the same standard of quality everywhere so it needs to shift to more process focused." Looking to the future, Leuschner sees increased automization and use of robotics in ghost kitchens. "Although just a topic for discussion at the moment, I can see in the next five to 10 years, specifically in the ghost kitchen more automization, robotic elements, a reduction in manual labor, and more automated processes," he said. "As of now, multifunctional equipment is essential. The Rational iCombi Pro, an intelligent combi steamer that can combine six different functions in one device, for example it can replace a flat-top grill, bain marie or an oven. This means better use of space, one operational service, one way to work, one way to train your people." Getting the set up right means growth in the ghost kitchen sector could then be a matter of copy and pasting, said Leuschner, with the potential to upgrade or improve – the idea is one system. Leuschner then showed a video demonstrating the two main types of set up for ghost kitchens. One is the multi-operator shared kitchen, operated by multiple brands with some shared areas, such as refrigeration or dispatch area. The other is multi-brands single operator. In this case a team may operate 15-20 brands at the same time, using the equipment to its fullest. "Being seen as the relevant partner for growth in the ghost kitchen sector, that would be our biggest indicator of success," he concluded.
Further details:
The entire webinar is available as a recording at www.rational-online.com/ghost-kitchen-talk, where you can also find more information about Rational's webinar series. The date for the next webinar in the series (#4) has already been set: on 8 September 2021, Rational will host a webinar focusing on the confluence of retail and ghost kitchens.
All about Ghost Kitchens:
Access insight material, recordings, white papers and more here
Free Download: Ghost Kitchen Playbook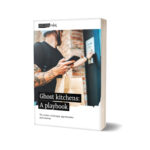 Download your Ghost Kitchen Playbook for free now.