Food trucks: They see me rollin' – they eatin'
Food trucks have been a familiar sight in New York for years, but now they're firing on all cylinders in Central Europe as well. Once ruled by all things breaded and deep-fried, food trucks in Germany have completely transformed their image in recent years. Today's Meals on Wheels are fun and stylish, nothing like the slightly dodgy stereotypes of yesteryear.
The food truck concept in itself is fairly straightforward, of course: most trucks have one specialty, and it's quick, cheap, and delicious. Fast food becomes slow food – while staying fast! Thanks to meticulous preparation and streamlined processes, these kitchenmobiles don't keep anyone waiting long. Unlike the old familiar burger huts once dotting German streets, the new generation of food trucks are always in the right place at the right time. Lunch in the business district, event catering, street food festivals… They're always moving, always on the road, always staying as flexible as possible.
(Just in case there's any confusion: food trucks are street food, but not all street food comes from food trucks. You're welcome.)
Truck Tales: Why food trucks are conquering the market
The entire industry is clearly changing. Take Chan Hon Meng, who received a Michelin star for his food stand in Singapore. That's right, for soya sauce chicken and sautéed noodles. All the more evidence that gastronomy can play by completely different rules nowadays. It's allowed to be relaxed while still staying at the top of its culinary game. Casual dining, and street food in particular, fill city dwellers' need for exceptional, yet unfussy, urban dining experiences. It's hard to explain what's so special about street food and street food festivals. They're sort of a heartwarming mix of a block party and a cozy evening of backyard grilling, with plenty of taste-testing and sharing snacks with your friends.
And, of course, ever-growing time pressures are contributing to the hype as well. We need our snacks fast, but they need to be good quality food, and ideally they should be surprising somehow.
Indeed, street food has really transformed our eating habits, while also opening up new horizons for the restaurant industry. Today's customers are more eager than ever for new taste experiences, and street food culture can offer boundless inspiration for restaurateurs' own businesses.
Deep fryers are so last season
Healthy hedonism – tasty food that happens to be healthy – is probably the number-one food trend right now. At its best, it's a perfect mixture of quality ingredients, powerful flavors, and pure joy of eating… and that's exactly what street food is all about. Seems almost contradictory, doesn't it? Street food used to be about feeding the masses using the simplest food possible, but nowadays it's like a pop-culture phenomenon.
In fact, trend researcher Hanni Rützler recently used those exact words – "Food is becoming pop culture!" – in Foodreport. Which makes street food festivals the most obvious choice of event for celebrating it. Food trucks are about more than just feeding your face. They're a lifestyle, an inspiration, and a bonding moment, all in a totally chill atmosphere  – casual dining, perfected. Foodies also like food trucks because it gives them a chance to watch the preparation process up close. Front cooking, as it's traditionally called, creates a connection with customers by turning the preparation process into a shared experience.
The hottest food trends on four wheels
Okay, yes, most of the scene is still dominated by burgers and pulled pork. But the mobile food market isn't all about catering to rabid carnivores, and multiculturalism is one of the biggest influences shaping its future. The newest addition to the German scene: Taiwan! If your first thought was "Asian food? Been there, done that," you need to (yes, NEED to) try a gua bao burger. Turbobao in Munich is a great place to start.
Next stop: Israel! Hummus, check. Falafel, check. And between them, a whole world of fantastic spices and flavors just waiting to be discovered. Levantine cuisine is definitely one of the hottest food trends around. It's got something for everyone, whether you're a meat lover or a strict vegan.
Speaking of vegans: Hamburg's own Vincent Vegan is a food truck and catering service that will have just about anyone convinced that plant-based eating can be unbelievably creative and cool. The whole thing has a pointedly chill vibe, with just enough rock-n-roll that it comes off as charming, not obnoxious.
But at the end of the day, there's no place like home, right? After all those new and exotic dishes, let's head into more familiar waters. Here are a few of the best food trucks in Germany serving up food like Grandma used to make: Erna & Co in Stuttgart does traditional Swabian cuisine – Maultaschen (pasta pockets) to go, please! Die Dollen Knollen are celebrating the good old Kartoffelpuffer (potato pancake) in Berlin. And at nearby Heißer Hobel, they're churning out delicious spaetzle (Swabian noodles) like there's no tomorrow.
APPetizers
One major secret to food truck success is the community of hungry trendhunters surrounding it. To help them connect with their "groupies", several truck owners came up with a special app dedicated to food trucks in Germany. The app lets would-be customers know which burgers, bowls, and burritos are going to be in their area when. In California, the creators of Roaming Hunger have taken that idea one step further: Street food fans can use it not only to track down their favorite trucks, but also to find catering for their weddings, birthdays or company parties.
Meanwhile, in Luxembourg, a seventeen-year-old high schooler got tired of waiting around for the next street food festival, so he created Snack-Track, which displays location information for every snackmobile in the Grand Duchy… and in four languages, no less. Devotees of Stockholm's growing street food scene can turn to Streetkäk for real-time tracking info on local trucks. It also includes current special offers, menus, and photos. The apps are a boon to food truck owners themselves as well: they can add themselves to the trackers for free, and it's a great way to boost their own visibility – win-win!
Fast, but not furious – why food trucks aren't a threat to restaurants
With all the hype around mobile meals, you might be wondering whether the rest of the gastronomy scene can keep up. But are traditional restaurants and food trucks actually comparable? And should we even be trying to compare the two?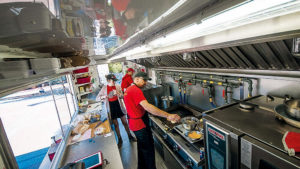 After all, food trucks represent an exciting new expansion option for restaurants, as well as a way of testing new creations and concepts. They're flexible, relatively cheap, and extremely efficient.
One of the best examples is Sanguchon, the Peruvian food truck Carlos Altamirano runs in San Francisco alongside his Michelin-starred restaurant. The truck serves hearty sandwiches with a variety of Peruvian-inspired toppings. It's a hit with the locals, and it gives Altamirano another jewel in the crown of his culinary empire.
Direct contact with customers is an invaluable asset when it comes to new customer acquisition. Presence at markets and street food festivals increases brand awareness: once customers have ventured into new culinary territory, they'll want more, and they might just end up discovering their new favorite brick-and-mortar place. Welcome to the modern gastronomy world! Beyond that, concepts like catering and delivery service can represent attractive ways of drawing additional business.
So many investing in a food truck isn't such a crazy idea after all? Matt Geller, President of the National Food Truck Association, has some advice for would-be chefs on wheels:
"I always tell people: If you want to start a food truck business just to own a food truck, don't do it. But if you want to start a food truck to grow a brand, then have that plan ready at launch."