With no less than three barrier-free hotels, the German group of Sonnenhotels awaits. They were certified according to the guidelines set by the recent German government-sponsored labeling system "Reisen für Alle", which means travel for all. So far, a little over 3,000 accommodation establishments, shops and leisure facilities have been thoroughly inspected and meticulously described according to transparent criteria.
Sieh dir diesen Beitrag auf Instagram an
The Sonnenhotel Weingut Römmert in Volkach, Franconia is the latest barrier-free certified Sonnenhotel establishment. Sonnenhotel Feldberg am See in Mecklenburg-Western Pomerania and even Sonnenresort Ettershaus in the Harz Mountains, which is located in a landmark building, are also certified. Another establishment is currently getting ready to welcome guests with dementia.
Protecting against unpleasant surprises
With their detailed descriptions of the premises, backed up by photos, the hotels' websites really stand out. The resulting secure feeling is not something guests with disabilities can take for granted. As seasoned travelers know, unpleasant surprises are the rule rather than the exception; even information provided over the phone is not always correct.
Sieh dir diesen Beitrag auf Instagram an
Hosts who do not truly understand the needs of their guests sometimes forget to mention that there is a step at the entrance or no loudspeaker announcement in the elevator. This is bound to cause hassle and irritation, and guests who are confronted with their limitations in this way are guaranteed not to come back. In other words, it takes much more than just providing wide passageways and floor-level showers. Guests will only feel genuinely welcome if employees wholeheartedly seek to understand their personal needs.
Italian moments for everyone
This certainly applies to an guest who books a trip with the Italian provider Cosyfair. The company has a unique network of experts throughout the country, who ensure top local expertise, as well as welcoming, pleasant and verified accommodations always perfectly tailored to the guest.
Company founder Ileana Esposito is herself a wheelchair user, and therefore very familiar with accessibility requirements. The company's own fleet of vehicles and depot of wheelchairs and other assistive devices do the rest to ensure guests with any kind of disability are free to enjoy an unforgettable vacation.
USA – Land of unlimited possibilites
The situation in the United States is particularly good in this regard. "If a restaurant, hotel, department store or retail store is not accessible according to ADA standards, it will not receive an operating permit from the Food and Drug Administration FDA," explains Alexander Lang, accessibility specialist. "Since 1990 at the latest, the USA has made massive efforts to make its country more accessible and eliminate discrimination based on disability. These measures follow the Americans with Disabilities Act ADA."
In the USA, guests with disabilities have an almost endless number of tourist attractions at their disposal, which are always complemented by barrier-free hotels and restaurants. Amicalola Falls State Park in Georgia, with the highest cascading waterfall in the southeastern United States, is a good example of how attentively guests with disabilities are welcomed in the country. A path with a soft surface specially designed for wheelchairs and strollers conveniently leads to a spectacular viewpoint, all without having to use the strenuous stairs. Amicalola Falls Lodge is located close to the waterfall. At the hotel, they have barrier-free rooms on the first floor, assistance dogs are welcome, and the staff is trained to ensure disabled guests have access to activities at the state park.
This is just one example of many. Even Universal Studios in Hollywood and the Kennedy Space Center in Florida are fully prepared to welcome guests with disabilities. You can find suitable accommodations throughout the country. Pier House Resort & Spa, where Truman Capote and Tennessee Williams once resided and Bob Marley launched his music career at the bar, invites guests to enjoy a barrier-free stay in famous Key West.
Sieh dir diesen Beitrag auf Instagram an
Everything is thought of here
With countless barrier-free options, the state of Viriginia really stands out. The donation-funded platform www.accessiblevirginia.org provides detailed information on places of interest, accommodation, restaurants, stores and leisure activities. From door measurements to the closest dialysis clinic, to a wheelchair repair shop and a veterinarian for assistance dogs, they have thought of everything.
In Texas, the non-profit project Morgan's Wonderland created an entire amusement park specifically for wheelchair users, where guests with recognized disabilities are even admitted free of charge. Their partner hotel offers barrier-free rooms, of course!
Sieh dir diesen Beitrag auf Instagram an
Little robots, big opportunities
The newly opened Dawn Avatar Robot Café in Tokyo is bringing completely new ideas into the concept of accessibility. In the cafe, small, white robots serve the guests. However, what makes this concept special is the work that goes on behind the scenes: the little helpers are actually avatars for the employees. Controlled remotely over the Internet, the almost four-foot-tall robots provide work for people who are unable to leave their homes for extended periods of time due to physical disabilities, childcare or other conditions.
This innovative café is the latest project developed by the Japanese robotics company Ory Laboratory Inc. to help create a barrier-free society. The OriHime-D robots, as they are called, are equipped with a camera, microphone and speaker. This allows them to speak and respond to commands as they move through the room. Since the robots can be controlled by eye movements, this concept also allows immobile people to work in the gastronomy sector.
And of course, the café is accessible to guests with disabilities. Escorts are always welcome regardless of the stipulated limit on the number of people. The premises are fully accessible for wheelchair and e-wheelchair users, the barrier-free WCs are also equipped for ostomy users and you can rent chargers for your medical equipment, such as ventilators.
Andreas Pröve is a travel expert and photojournalist who explores completely new realms of accessibility. With his handbike, he has traveled to China, India, Myanmar, Jordan and Iraq, among other places, and even reached the sources of the Ganges, Mekong and Yangtze rivers. No one has to do as he has done; however, Pröve's compelling presentations encourage people to break out of their comfort zones and open themselves up to new experiences. There are already lots of offers and opportunities and their number is growing!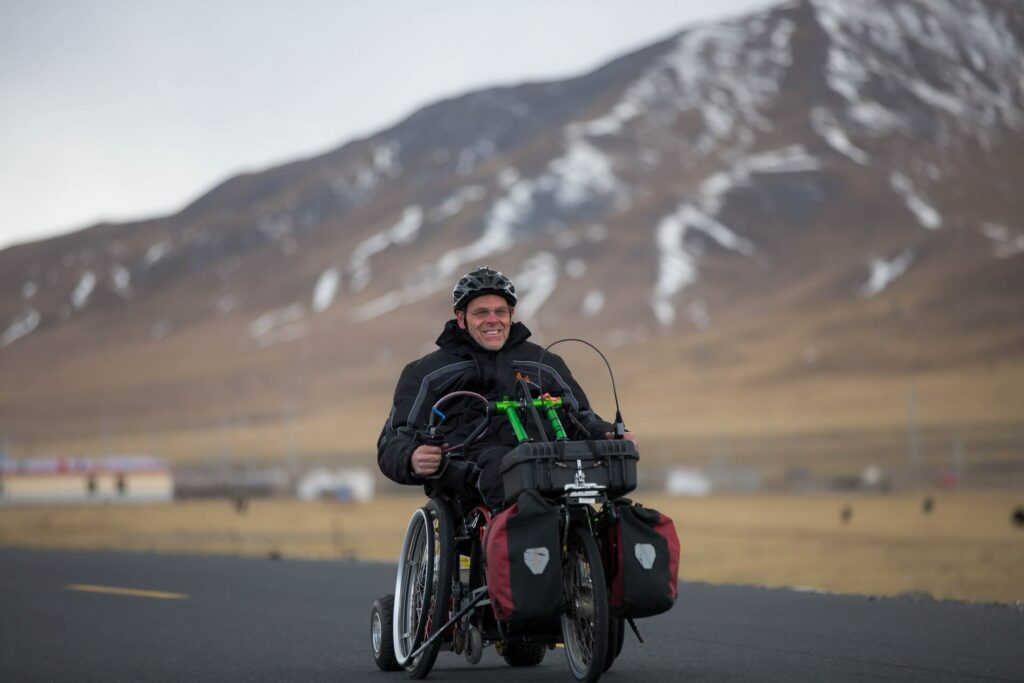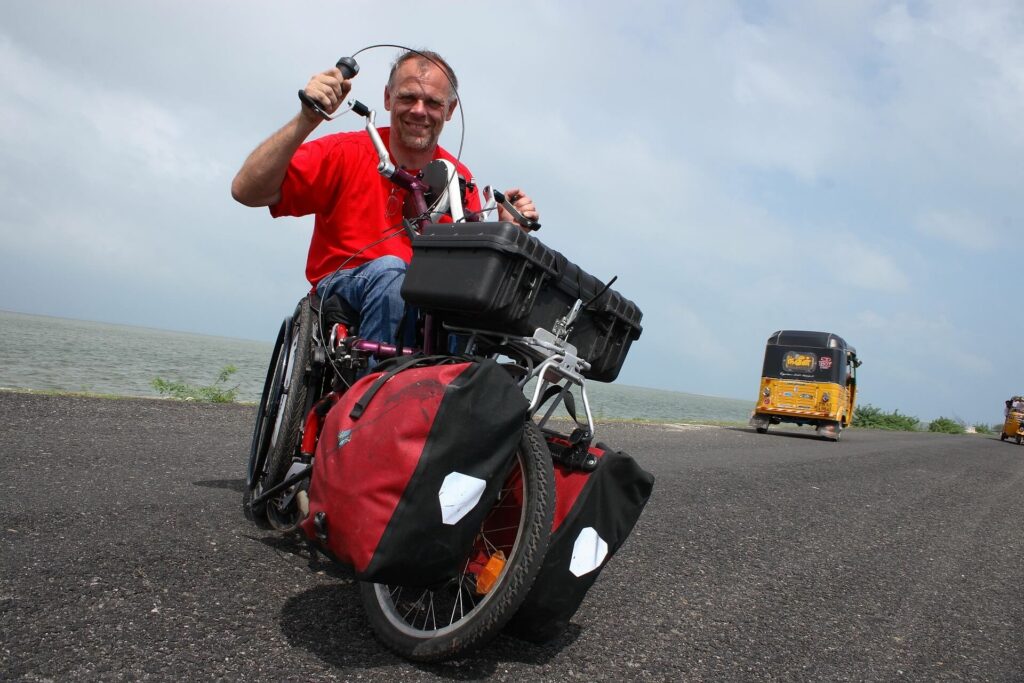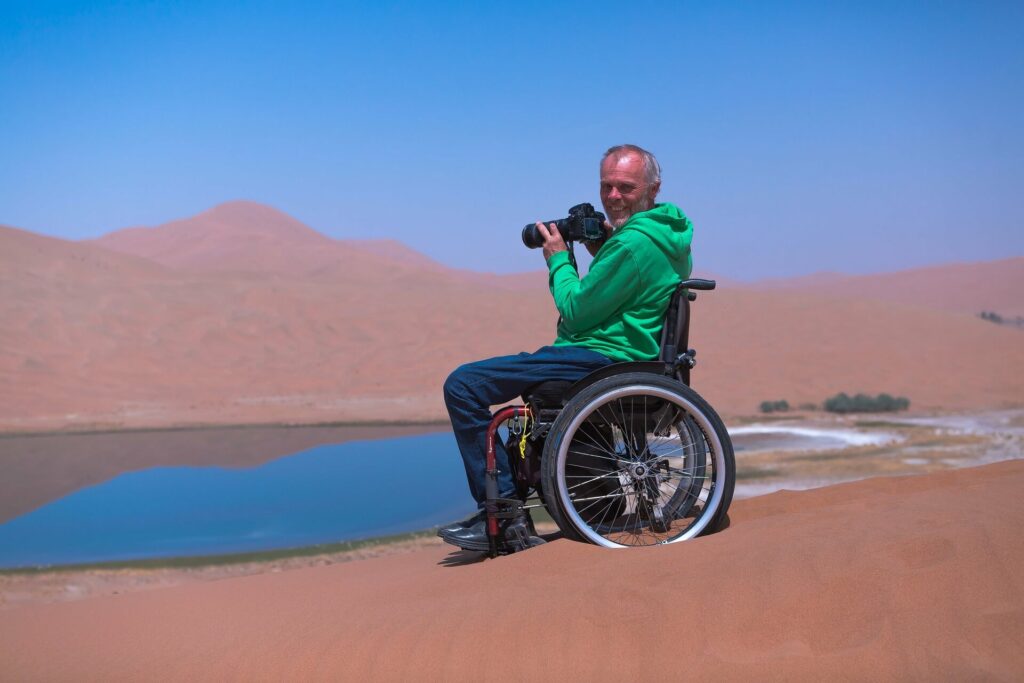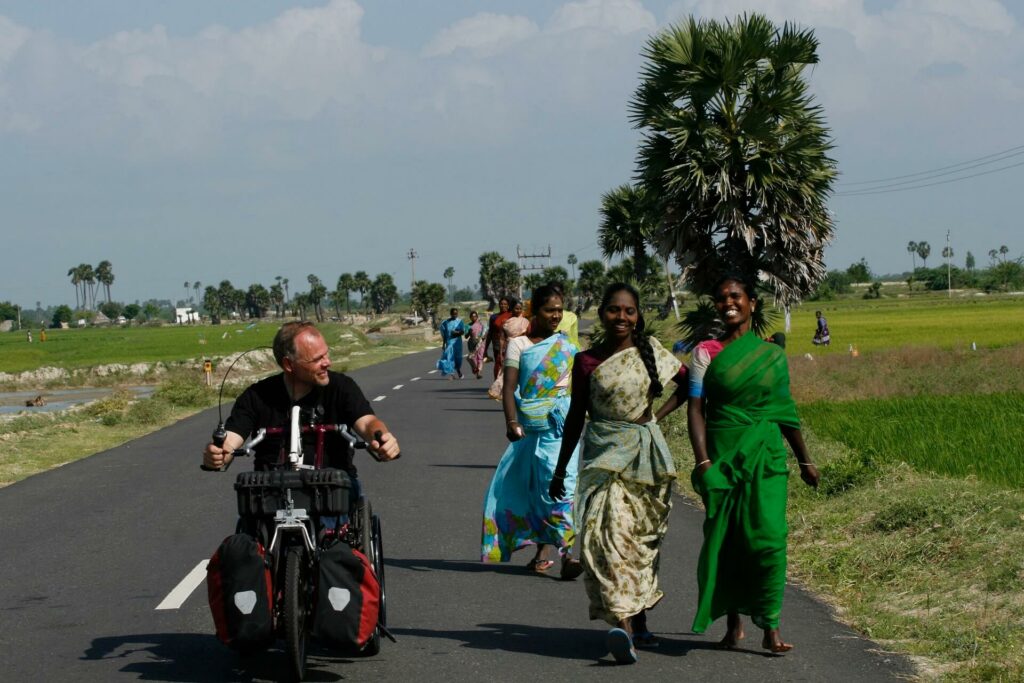 Images: Andreas Pröve
More on the topic of robots in the hospitality industry: