It looks like something out of a sci-fi movie. A long wall with dozens of glass boxes. Suddenly, your name appears on one. You tap in a payment code on the touchscreen, and the box opens to reveal the meal you ordered a few minutes ago, which the kitchen has just finished preparing using robot technology. Welcome to the future!
Bringing "slow food" (healthy, high-quality food with local and seasonal ingredients) to customers within a few minutes used to seem like squaring the circle, but in San Francisco and Berlin, digital technology is making it possible. At Eatsa (San Francisco) and Data Kitchen (Berlin), specially developed hardware and software are helping regulate and accelerate the health food preparation process, and developers see a wealth of potential still waiting to be tapped.
Tim Young and Scott Drummond opened Eatsa in 2015, and the pioneering "fast health food" concept was an immediate hit in tech-positive San Francisco. At Eatsa, customers use apps or stationary iPad kiosks to select from a menu of health food bowls. No wait staff are involved in the process; instead, informational screens pop up with a complete list of ingredients and all the nutritional information customers could ever want.
Choices include tofu, avocado, hummus, falafel, and vegetables, flavored with (for example) Thai sauce or Madras curry; non-vegetarian selections include bulgogi beef, citrus pork, or wonton chicken. All of them come with quinoa or rice. In the next room, just out of view, meals are prepared fresh to order… with the help of robot technology. Moments later, the finished dish lands in one of the boxes on the "food wall", which separates the kitchen and the restaurant, and is accessible from either side. On the restaurant side of the food wall, the customer's name appears on a touch screen; after paying digitally, he or she picks up the order and digs in. Nowadays, it all happens in a matter of minutes— the longer wait times customers experienced in the first few months were mainly due to the hype Tim and Scott unleashed in their hometown.
The new digital "fast slow food" future has also made its way to Berlin's Hackescher Markt, where Data Kitchen opened its doors in December of 2016. At the helm is none other than Heinz 'Cookie' Gindullis, who also runs the Michelin-starred vegetarian restaurant Cookies Cream, the more casual Crackers, and the lunch hotspot Chipps. Data Kitchen is Gindullis' newest project, developed in cooperation with the IT specialists at SAP. The kitchen team is led by chef Alexander Brosin.
Also on board: Christian Hamerle, who acts as operations manager and host. The Austrian native, who previously spent five years as Sarah Wiener's restaurant manager, sat down with us to tell us about what makes Data Kitchen so special, and explain its similarities and differences to Eatsa.
KTCHNrebel: Christian, you guys are all about shortening processes and making things faster… how would you describe your mission in a few words?
Christian Hamerle: Let me put it this way: the average person in Berlin gets 23 minutes for lunch. We give them the gift of time. Time to enjoy a good meal properly, that is.
KTCHNrebel: How long does it take you to get an order ready to pick up?
Christian Hamerle: Customers can use our app to place an order 30 minutes in advance. They can also drop by spontaneously and order at the restaurant, and the food will be ready within fifteen minutes.
KTCHNrebel: So how do you handle timing on your food wall? It has 20 compartments, I think?
Christian Hamerle: Yeah, which is about right for our capacity. With four people in the kitchen, we're limited to 25 orders every 15 minutes, so the 20-box food wall is just right.
KTCHNrebel: How many customers do you get per hour?
Christian Hamerle: During the lunch rush, between 12:30 and 2:30, we have about 80-100 an hour.
KTCHNrebel: What happens if customers don't get the information that their food is ready? Or if they arrive late?
Christian Hamerle: Five minutes after we put the meal in the food wall, if it hasn't been picked up, we take it out again and put it under our heating lamps. The customer gets a push notification letting them know to ask staff directly. It's funny, though— only 0.1 percent of our customers are late. It's a little like at an airport: almost everyone manages to get there on time when they need to.
KTCHNrebel: You worked together with SAP to develop the software behind your concept. How long did that take?
Christian Hamerle: We spent about six months on it. CosmoCode, an online agency, and Tina Steffan, our art director, were part of the process as well.
KTCHNrebel: Do people who aren't tech-savvy eat here, too?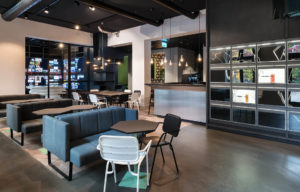 Christian Hamerle: Sure. We had a 90-year-old woman come in not too long ago. She didn't have a smartphone, so we helped her put in an order through the iPad we set up specifically for cases like that. There's only one of those, though. Unlike at Eatsa, our concept isn't really set up for people to order on-site via iPads. We want that to be the exception, not the rule.
KTCHNrebel: Eatsa was still a source of inspiration for you, though, wasn't it?
Christian Hamerle: Yeah, we did check out the Eatsa concept. They're pioneers, just as we are, but there are a few big differences between our restaurants. For example, we deliberately decided against those order kiosks, where customers use an iPad to order. Europe has an old service culture, so it's important to us that our customers have a host there to greet them in-person. And unlike Eatsa, we don't use a touch screen on the food wall. Our customers open their compartments via a link in their notification emails. Things are different here on the other side of the wall, too—in the kitchen, I mean. We don't use robot technology. Here, cooking is still an "analog" activity.
KTCHNrebel: How would you describe the Data Kitchen philosophy?
Christian Hamerle: Before this, Alex Brosin worked under Michelin-starred chef Michael Hoffmann, who focuses on vegetables a lot. Here, too, he emphasizes veggies, along with small-batch, regional products and seasonal food. We do a colorful mix of dishes, but mainly our approach is about putting a fresh face on Northeast German cuisine. Sometimes we call it "New Brandenburg cuisine".
KTCHNrebel: How often do you change the menu?
Christian Hamerle: Every day. We're always offering new lunch options. Sometimes it's Valenciano with polenta and parsnip chervil; other days, it's cheese spaetzle and sweet dumplings. About 80 percent of our food is vegetarian or vegan.
KTCHNrebel: At Eatsa, nutrition information and calorie counts are posted for everything. Do you do the same?
Christian Hamerle: We haven't started putting up nutrition information, but that would definitely be a possibility in the future. We just recently developed a menu that customers can view on the app 24/7.
KTCHNrebel: And what do you do with your customers' personal information? Do you store it?
Christian Hamerle: We opened right around the time that the new Data Protection Act went into effect—which I really think is a great thing. All we know is how often each customer has come in and what they ordered. Beyond that, we don't have access to any information. Most customers register under a nickname, which they then see on the food wall when their meals are ready for pick-up. If they want a receipt, which most people actually do, they give us an email address as well.
KTCHNrebel: What kinds of challenges did you run into when developing this place?
Christian Hamerle: We're a prototype, so obviously we're continually developing and refining the concept. Actually, though, we didn't run into any serious problems. The electricity went out one time, so we had to do everything completely analog for a while.
KTCHNrebel: How many people are on your service team?
Christian Hamerle: We don't have any waiters, but we have two or three "hosts", as we call them. Their job is to greet customers, answer questions, and help create a warm, friendly atmosphere. We also have a barista.
KTCHNrebel: Are you planning on expanding?
Christian Hamerle: We don't have any concrete plans in place yet. It could go in one of two directions: either a franchise plan or licensing the software to other places in order to expand the digital restaurant principle.
KTCHNrebel: You've already received awards for this concept.
Christian Hamerle: Yeah, in 2017 Fizzz Magazine named us Trend Concept of the Year. And we received 12.5 Gault-Millau points. We were also on the short list for the Leaders Club Award.
KTCHNrebel: Congratulations! That's pretty great starting capital. Where do you see yourselves in the future?
Christian Hamerle: The software we've developed holds a lot of great potential. Our data provides valuable information to help us do more targeted procurement. A refined, properly functioning inventory management system would not only help us work with small businesses more effectively, it would also lower our overall expenses. That would benefit everyone involved—including customers, of course.
KTCHNrebel: What else is on your agenda?
Christian Hamerle: Acquiring more customers. In this neighborhood, a lot of companies don't have their own canteens. We're planning on collaborating with them more closely in the future.