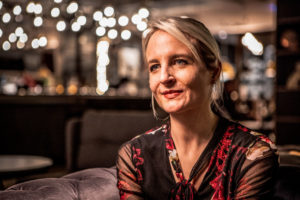 These types of castings, which are often held in proper style in cinema theatres, are all about finding just the right personalities to fit to the Premier Inn. Irrespective of training and experience, engagement and passion are what really make the cut. Once an applicant successfully passes the first phase of the selection process, they are then invited to an in-depth job interview. According to the motto "Learning by doing", the career changer is then given on-the-job training and appointed a so-called ambassador who shows and explains everything to them. Moreover the hotel chain courts career changers with the promise of fast promotion, career opportunities and flexible stages of development. A lecturer in linguistics and business communication at the university, explains in a short interview what that means in concrete terms and how her career change actually came about through a chance encounter. When she first left America to come to Germany, she never imagined herself working in a hotel.
When did you start to work for Premier Inn?
I started in October 2018 and I'm currently training to be a hotel manager. I am being trained so that I can work in a hotel that will be opening shortly.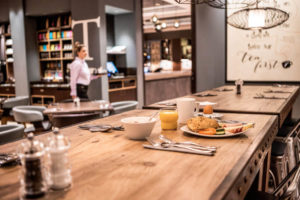 What sort of skills are you being taught?I'm passing through every station of a hotel: from reception to housekeeping through to the bar. And the back office of course. So I can learn the business from the ground up.
What did you do beforehand?
I worked as a linguistics lecturer at the uni for five years and even had a permanent position, which is not always a given.
How did you come to be at the Premier Inn?
I was told about the position by a friend of mine. I then submitted a written application. It only took a week to get an answer and an appointment for an interview. First of all with the Head of HR and then with the Manager of the Frankfurt hotel. We immediately noticed that the chemistry was right.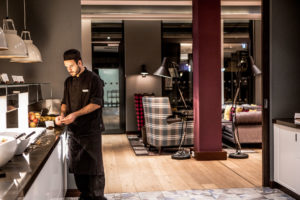 What made you want to apply to the Premier Inn?
There were a number of reasons. I really enjoyed my position as a lecturer at the uni but I then started to notice I was lacking practical professional experience. Uni is a completely different world. The prospect of intercultural work really appealed to me, as Premier Inn is a British hotel brand with a lot of employees from different nationalities. I was very pleased about that as an American in Germany. And my first work experience when I was a student was in the restaurant trade. I had an idea what I could expect.
And why Premier Inn in particular?
Premier Inn is an extremely interesting company, which is growing quickly. This opens up to me a lot of opportunities and a great deal of diversity. And I think I will have a lot of opportunities here for further development personally.
And what do you like the most about your new profession?
How open people are. For a career changer like me, that's worth its weight in gold.